COVID-19 Publications
COVID-19
Poster/Publication
Journal/Date
Title
Overview
Poster/Publication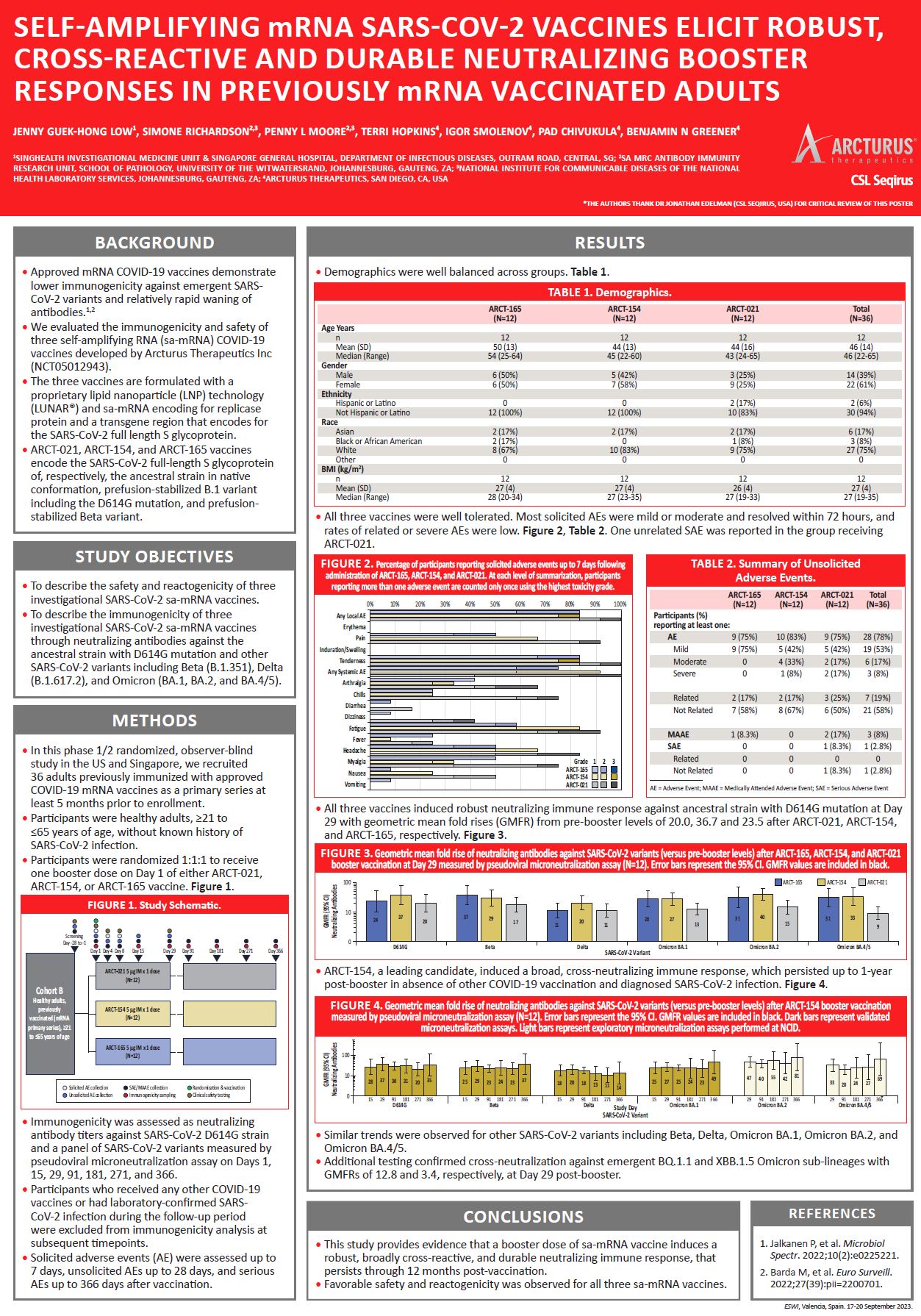 Journal/Date
September 2023
Title
Self-Amplifying mRNA SARS-COV-2 vaccines elicit robust, cross-reactive and durable neutralizing booster responses in previously mRNA vaccinated adults
Overview
• This study provides evidence that a booster dose of sa-mRNA vaccine induces a robust, broadly cross-reactive, and durable neutralizing immune response, that persists through 12 months post-vaccination.
• Favorable safety and reactogenicity was observed for all three sa-mRNA vaccines.
Poster/Publication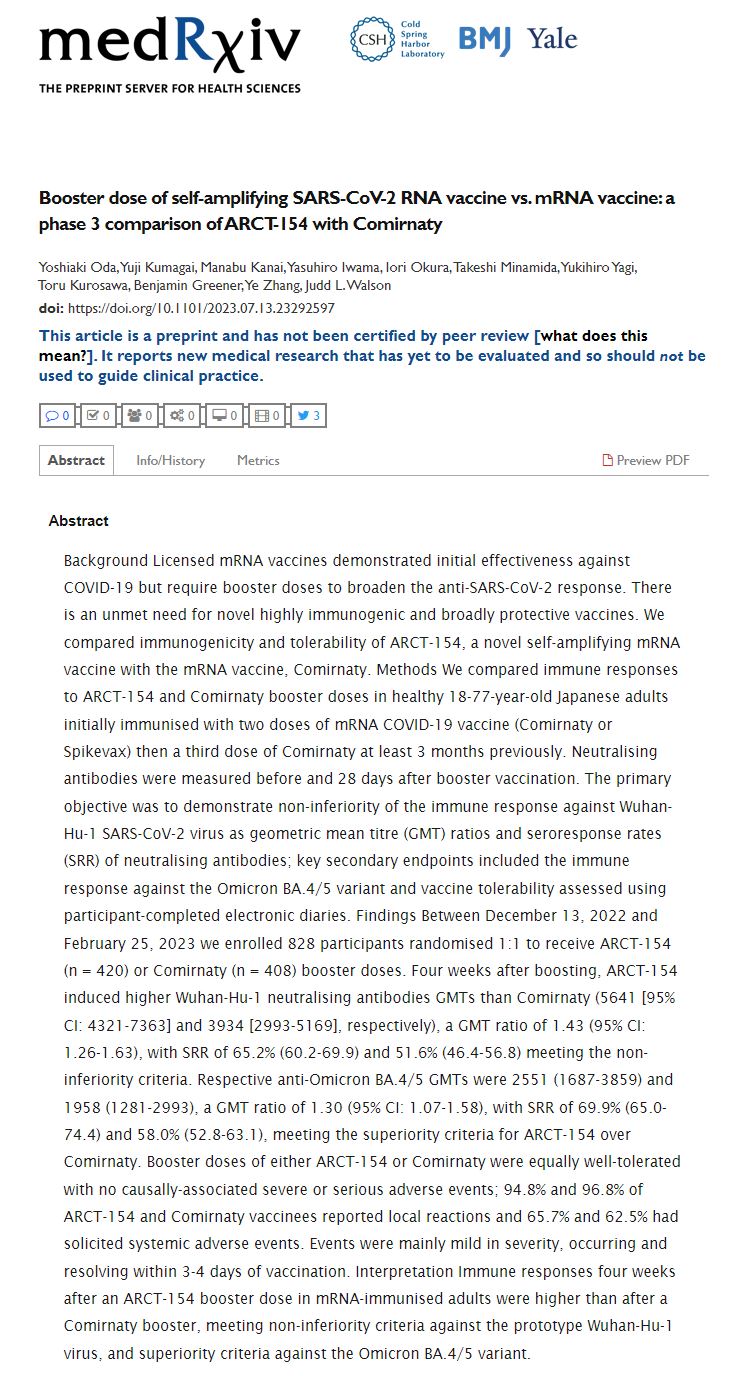 Title
Booster dose of self-amplifying SARS-CoV-2 RNA vaccine vs. mRNA vaccine: a phase 3
Overview
Licensed mRNA vaccines demonstrated initial effectiveness against COVID-19 but require booster doses to broaden the anti-SARS-CoV-2 response. There is an unmet need for novel highly immunogenic and broadly protective vaccines. We compared immunogenicity and tolerability of ARCT-154, a novel self-amplifying mRNA vaccine with the mRNA vaccine, Comirnaty. Methods We compared immune responses to ARCT-154 and Comirnaty booster doses in healthy 18-77-year-old Japanese adults initially immunised with two doses of mRNA COVID-19 vaccine (Comirnaty or Spikevax) then a third dose of Comirnaty at least 3 months previously. Neutralising antibodies were measured before and 28 days after booster vaccination. The primary objective was to demonstrate non-inferiority of the immune response against Wuhan-Hu-1 SARS-CoV-2 virus as geometric mean titre (GMT) ratios and seroresponse rates (SRR) of neutralising antibodies; key secondary endpoints included the immune response against the Omicron BA.4/5 variant and vaccine tolerability assessed using participant-completed electronic diaries.
Poster/Publication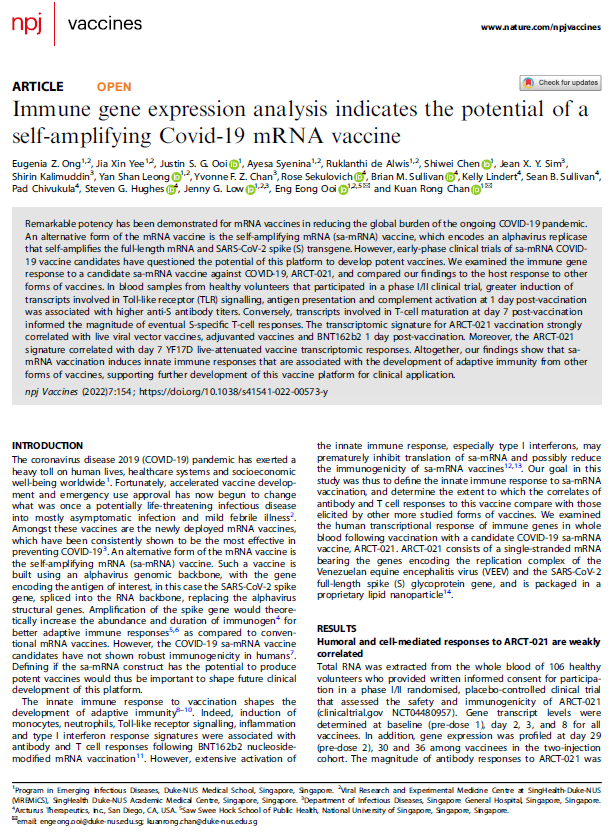 Journal/Date
November 2022
Title
Immune gene expression analysis indicates the potential of a self-amplifying Covid-19 mRNA vaccine
Overview
Remarkable potency has been demonstrated for mRNA vaccines in reducing the global burden of the ongoing COVID-19 pandemic. An alternative form of the mRNA vaccine is the self-amplifying mRNA (sa-mRNA) vaccine, which encodes an alphavirus replicase that self-amplifies the full-length mRNA and SARS-CoV-2 spike (S) transgene. However, early-phase clinical trials of sa-mRNA COVID- 19 vaccine candidates have questioned the potential of this platform to develop potent vaccines. We examined the immune gene response to a candidate sa-mRNA vaccine against COVID-19, ARCT-021, and compared our findings to the host response to other forms of vaccines. In blood samples from healthy volunteers that participated in a phase I/II clinical trial, greater induction of transcripts involved in Toll-like receptor (TLR) signalling, antigen presentation and complement activation at 1 day post-vaccination was associated with higher anti-S antibody titers. Conversely, transcripts involved in T-cell maturation at day 7 post-vaccination informed the magnitude of eventual S-specific T-cell responses. The transcriptomic signature for ARCT-021 vaccination strongly correlated with live viral vector vaccines, adjuvanted vaccines and BNT162b2 1 day post-vaccination. Moreover, the ARCT-021 signature correlated with day 7 YF17D live-attenuated vaccine transcriptomic responses. Altogether, our findings show that samRNA vaccination induces innate immune responses that are associated with the development of adaptive immunity from other forms of vaccines, supporting further development of this vaccine platform for clinical application.
Poster/Publication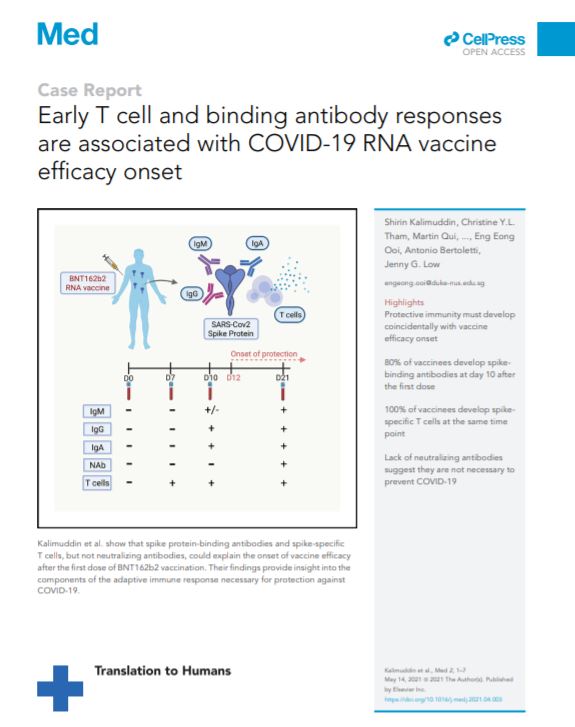 Title
Early T cell and binding antibody responses are associated with COVID-19 RNA vaccine efficacy onset
Overview
RNA vaccines have shown efficacy in preventing coronavirus disease 2019 (COVID-19) as early as 12 days after the first dose. Vaccine efficacy onset presents a unique opportunity to define the necessary elements of immunity against COVID-19. Kalimuddin et al. tracked the serological and T cell responses longitudinally in 20 healthcare workers after the first Pfizer/BioNTech BNT162b2 vaccine dose. Anti-spike immunoglobulin G (IgG) and IgA antibodies and spike-specific T cells were detectable at day 10 after the first dose; neutralizing and receptor-blocking antibodies remained mostly undetectable at this time point. These results suggest that binding antibodies and T cell responses are responsible for early protection against COVID-19 and call for circumspection on the prevailing notion that neutralizing antibodies are absolutely required for protection.
Poster/Publication
Title
A single dose of self-transcribing and replicating RNA-based SARS-CoV-2 vaccine produces adaptive immunity in mice
Overview
A self-transcribing and replicating RNA (STARR)-based vaccine (LUNAR-COV19) has been developed to prevent SARS-CoV-2 infection. The vaccine encodes an alphavirus-based replicon and the SARS-CoV-2 full-length spike glycoprotein. Translation of the replicon produces a replicase complex that amplifies and prolongs SARS-CoV-2 spike glycoprotein expression. A single prime vaccination in mice led to robust antibody responses, with neutralizing antibody titers increasing up to day 60. Activation of cell-mediated immunity produced a strong viral antigen-specific CD8+ T lymphocyte response. Assaying for intracellular cytokine staining for interferon (IFN)g and interleukin-4 (IL-4)-positive CD4+ T helper (Th) lymphocytes as well as anti-spike glycoprotein immunoglobulin G (IgG)2a/IgG1 ratios supported a strong Th1-dominant immune response. Finally, single LUNAR-COV19 vaccination at both 2 µg and 10 µg doses completely protected human ACE2 transgenic mice from both mortality and even measurable infection following wild-type SARS-CoV-2 challenge. Our findings collectively suggest the potential of LUNAR-COV19 as a single-dose vaccine.
Ornithine Transcarbamylase Deficiency