Ornithine Transcarbamylase Deficiency Publications
Ornithine Transcarbamylase Deficiency
Poster/Publication
Journal/Date
Title
Overview
Poster/Publication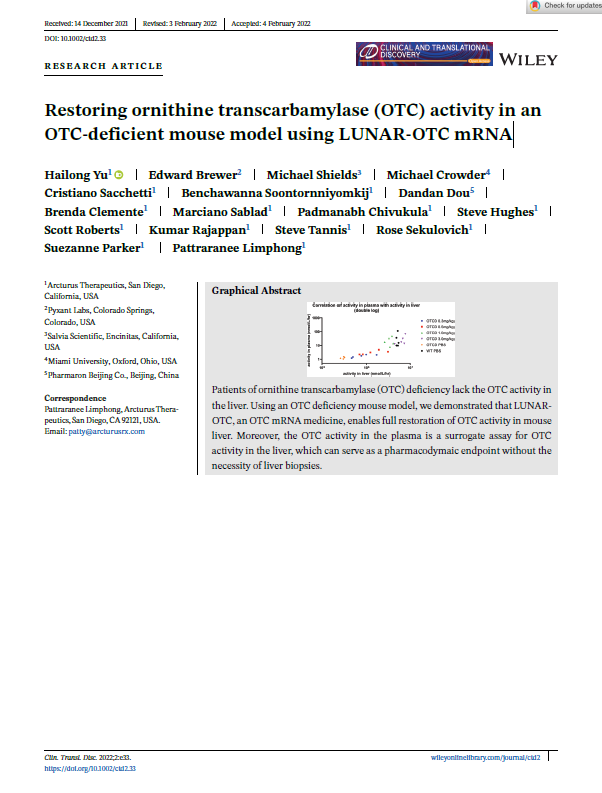 Journal/Date
December 2021
Title
Restoring ornithine transcarbamylase (OTC) activity in an OTC-deficient mouse model using LUNAR-OTC mRNA
Overview
Patients of ornithine transcarbamylase (OTC) deficiency lack the OTC activity in the liver. Using an OTC deficiency mouse model, we demonstrated that LUNAR OTC, an OTC mRNA medicine, enables full restoration of OTC activity in mouse liver. Moreover, the OTC activity in the plasma is a surrogate assay for OTC activity in the liver, which can serve as a pharmacodynamic endpoint without the necessity of liver biopsies.
Poster/Publication
Title
mRNA Therapy For Ornithine Transcarbamylase Deficiency
Overview
LUNAR®-OTC treats patients suffering from ornithine transcarbamylse deficiency (OTCD) using mRNA to replace the wild-type human enzyme. OTCD is a rare metabolic disease in which the urea cycle cannot efficiently convert ammonia into urea. The efficacy of LUNAR®-OTC was evaluated in an animal model of OTCD ameliorating certain OTCD disease phenotypes in mice.