Selective suppression of polyglutamine-expanded protein by lipid nanoparticle-delivered siRNA targeting CAG expansions in the mouse CNS
Polyglutamine (polyQ) diseases are inherited neurodegenerative disorders caused by expansion of cytosine-adenine-guanine (CAG)-trinucleotide repeats in causative genes. These diseases include spinal and bulbar muscular atrophy (SBMA), Huntington's disease, dentatorubral-pallidoluysian atrophy, and spinocerebellar ataxias. Targeting expanded CAG repeats is a common therapeutic approach to polyQ diseases, but concomitant silencing of genes with normal CAG repeats may lead to toxicity. Previous studies have shown that CAG repeat-targeting small interfering RNA duplexes (CAG-siRNAs) have the potential to selectively suppress mutant proteins in in vitro cell models of polyQ diseases. However, in vivo application of these siRNAs has not yet been investigated. In this study, we demonstrate that an unlocked nucleic acid (UNA)- modified CAG-siRNA shows high selectivity for polyQ expanded androgen receptor (AR) inhibition in in vitro cell models and that lipid nanoparticle (LNP)-mediated delivery of the CAG-siRNA selectively suppresses mutant AR in the central nervous system of an SBMA mouse model. In addition, a subcutaneous injection of the LNP-delivered CAG-siRNA efficiently suppresses mutant AR in the skeletal muscle of the SBMA mouse model. These results support the therapeutic potential of LNP-delivered UNA-modified CAG-siRNAs for selective suppression of mutant proteins in SBMA and other polyQ diseases.
LUNAR®-CF, an aerosolized mRNA replacement Therapy for Cystic Fibrosis Lung Disease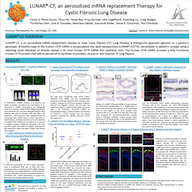 LUNAR®-CF is an aerosolized mRNA replacement therapy to treat Cystic Fibrosis (CF) Lung Disease, a therapeutic approach agnostic to a patient's genotype. A healthy copy of the human CFTR mRNA is encapsulated into lipid nanoparticles (LUNAR®-hCFTR), aerosolized to patient's airways using a vibrating mesh nebulizer to directly deliver a de novo human CFTR mRNA into epithelial cells. This human CFTR mRNA encodes a fully functional human CFTR protein that will be beneficial to facilitate mucociliary clearance and improve CF lung disease.